<< Back
Flexion Therapeutics Named one of Boston Business Journal's Best Places to Work for the Third Consecutive Year
Only Boston-area biopharmaceutical company recognized in medium business category
BURLINGTON, Mass., June 20, 2019 (GLOBE NEWSWIRE) -- Flexion Therapeutics, Inc. (Nasdaq:FLXN) today announced that it has been named one of Boston Business Journal's "Best Places to Work" for the third consecutive year. Flexion was the only Boston-area biopharmaceutical company recognized in the medium business category (100 to 249 employees).

"There is tremendous competition for talent in the biotech industry, and awards like this differentiate Flexion and give us an advantage when it comes to attracting and retaining top talent," said Michael Clayman, M.D., President and Chief Executive Officer of Flexion. "We are extraordinarily grateful to our employees whose commitment allows us to make a meaningful difference in the lives of our patients."
The "Best Places to Work" Program recognizes companies within the greater Boston area that embody strong company culture and create an exceptional work environment for their employees. This year Boston Business Journalrecognized 79 local employers which are divided into categories based on company size. The rankings are determined by employees' responses to survey questions which focus on communication and resources, individual needs, manager effectiveness, personal engagement, team dynamics and trust in leadership.
About Flexion Therapeutics
Flexion Therapeutics (Nasdaq:FLXN) is a biopharmaceutical company focused on the development and commercialization of novel, local therapies for the treatment of patients with musculoskeletal conditions, beginning with osteoarthritis, a type of degenerative arthritis. The company's core values are focus, ingenuity, tenacity, transparency and fun. For the past three years, Flexion has been named one of the Best Places to Work by the Boston Business Journal, and Flexion was also recognized as a Top Place to Work in Massachusetts by The Boston Globe in 2017 and 2018.
Contacts:
Julie Downs
Manager, Corporate Communications
Flexion Therapeutics, Inc.
T: 781-305-7137
jdowns@flexiontherapeutics.com
Laurel Orcutt
Intern, Corporate Communications
Flexion Therapeutics, Inc.
T: 781-305-7554
lorcutt@flexiontherapeutics.com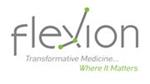 Source: Flexion Therapeutics, Inc.